Vacature coördinator Jong&Out Utrecht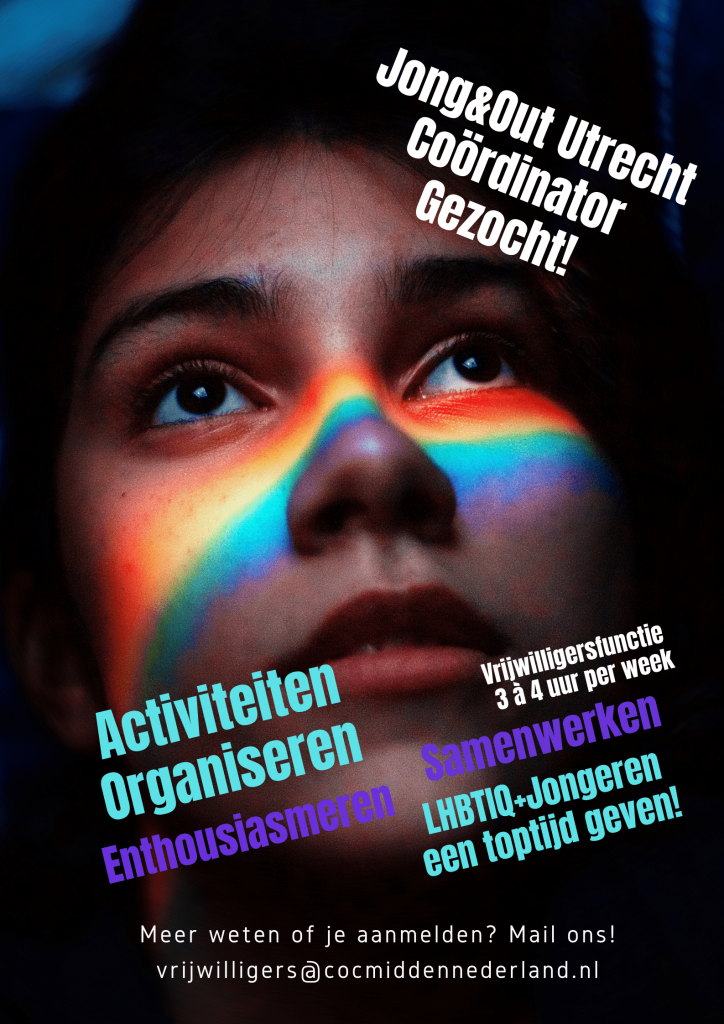 Hé jij daar!
Jong&Out Utrecht is onderdeel van het COC Midden Nederland en speciaal ingericht voor LHBTIQ+ jongeren tot en met 18 jaar. Wij zorgen ervoor dat LHBTIQ+jongeren van 12-18 jaar elkaar kunnen ontmoeten, ervaringen kunnen delen, maar vooral heel veel gezelligheid kunnen beleven. Het Jong&Out team bestaat uit vrijwilligers.
Jong&Out Utrecht heeft binnen het COC Midden-Nederland een vacature vrij als coördinator! Je hebt ongeveer 16 uur per maand tijd over om het team te versterken.
Wat vragen wij van jou? Actieve houding en productieve inzet. En woonachtig in de regio Utrecht.
Wat ga je allemaal doen?
Als coördinator zorg je dat de maandelijkse activiteitenmiddagen op tijd georganiseerd en gepromoot zijn en dat de activiteiten op rolletjes lopen: met nadrukkelijk aandacht voor dat jongeren zich welkom en gehoord voelen. Dit doe je als coördinator met ondersteuning van de J&O-jongerenbegeleiders van J&O Utrecht. Daarnaast coördineer je of draag je bij aan J&O activiteiten in samenwerking met vrijwilligers van J&O groepen uit het hele land. Uiteraard wordt je goed ingewerkt, zodat je met vertrouwen aan de slag kunt.
Je zorgt ervoor dat…
er op tijd een activiteit en locatie zijn geregeld, zowel voor meetings als de andere evenementen
er volop promotie plaatsvindt om jongeren er van op de hoogte te laten zijn (via social media, de J&O-app, communicatie naar GSA's of scholen etc.)
de verwerking van aanmeldingen goed verloopt
je bent aanspreekpunt voor vragen van jongeren/ouders/verzorgers over Jong&Out Utrecht
er begeleiders geworven worden wanneer nodig
We zoeken iemand die affiniteit heeft met de doelgroep en die zich in wil zetten door…
het overzicht te houden
taken te delegeren onder de begeleiders en na te gaan of deze op tijd gedaan zijn
duidelijk te communiceren met de begeleiders
bij alle activiteiten aanwezig te zijn als coördinator en tevens jongerenbegeleider
die ten alle tijde het belang van de jongeren voorop stelt door goed te luisteren en ze allen te accepteren zoals ze zijn, hierin geen onderscheid te maken
Lijkt dit je leuk en ben jij lekker enthousiast, kun je organiseren, delegeren en op een prettige manier samenwerken, dan zoeken we jou!
Meer over Jong&Out bij COC Midden-Nederland: https://www.cocmiddennederland.nl/werkgroepen/jongout
Heb je nog vragen? Neem dan contact op met Maryse Leloup, per email [email protected]. Je kunt natuurlijk ook direct solliciteren! Stuur dan een reactie naar [email protected].